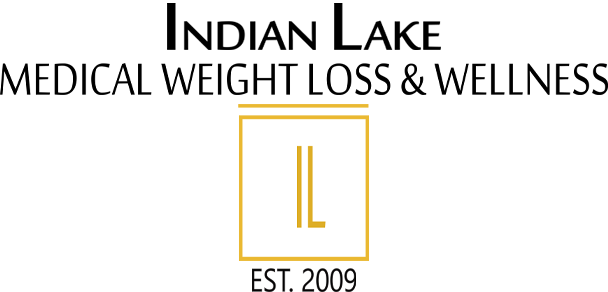 Morpheus8 Radio Frequency Micro needling by Inmode
For decades, facelifts were the only surefire way to tighten sagging skin and recover a more youthful appearance. Unfortunately, these came with both physical and financial costs, requiring a significant investment in surgery and recovery time. And even then, the results were not always optimum, with facial skin being pulled taut over the skull.
However, advancements in non-surgical techniques now allow you to improve the elasticity and health of your skin, resulting in a rejuvenated, more youthful appearance without the nip and tuck. InMode's Morpheus8 utilizes a unique combination of micro needling and fractionated radiofrequency (RF) energy to repair and tighten skin.
Micro needling, or collagen induction therapy, uses tiny, sterile needles to stimulate collagen production and repair skin. Combining simultaneous RF treatment, the Morpheus 8 painlessly tightens skin, reduces wrinkles, improves complexion and texture, contours jawline, and renews deep layers of the skin with no surgery and almost no patient downtime.
Do you live in Hendersonville, Sumner County, the greater Nashville area, or other cities in Tennessee and are interested in receiving a radio frequency (RF) micro needling treatment? T. Taylor Minchey BCSN, MSN, FNP-BC  and the staff at Indian Lake Medical will gladly provide you with information so you can improve the quality of your skin.  Remember, there are many imitators….but NONE quite like the Morpheus8 by Inmode! Don't be fooled! Morpheus8 takes collagen, skin, and tissue resurfacing and remodeling of the aging skin to new depths – 8mm deep that is!! The new Morpheus8 platform delivers programable face and body fractional treatments penetrating tissue with a thermal profile up to 8mm deep but also as surface as 0.5mm for those fine lines, acne scars, etc. that also can plague the skin!  Safe for ALL skin types!  Many consider Morpheus8 as that non surgical approach or face lift they've been considering.
We are hopeful that you will trust the expertise of Indian Lake Medical with your next micro needling, radio frequency treatment. There is a learning curve with the Morpheus8 platform and here at Indian Lake Medical we've learned with time that Morpheus8 treatment outcomes can vary, dependent upon the user operator. Understanding how and when to use certain energy's, settings, and fractional tips on this very powerful piece of equipment has become life changing for us here at Indian Lake Medical!
Results from Morpheus8 can last anywhere from 2-4 years but this timeline depends on factors like your age, current skin elasticity and how well you stick with a healthy skin care routine.
Wrinkles are unavoidable as we get older. The collagen and elastin fibers that give our skin elasticity break down from general aging, sun exposure, loss of fat, genetics, and weight loss. When collagen disappears, there's no way to replace it with topical solutions or plastic surgery. However, you can encourage new collagen and elastin production naturally, which is exactly what Morpheus8 does. RF skin tightening triggers your body's natural healing response and tightens loose skin over time.
What should I expect during treatment?
Anti-aging radiofrequency treatment can help you achieve youthful results without doing any damage to your skin or the surrounding tissues. Morpheus8 is an in-office procedure and doesn't require an extended amount of time in recovery. The treatment itself should only take about an hour, and it's mostly painless with local anesthesia. During your procedure, tiny needles create micro-injuries on the targeted areas. Once the needles penetrate the skin,  radiofrequency waves result in skin tightening.  Morpheus8 will tone, tighten and renew your skins youthfulness without surgery.  Look years younger with little to no downtime! 
With four fractional tips to provide a variety of treatment depths, Morpheus 8 is the most aggressive offering combining fractionated RF energy — to reduce wrinkles and rebuild collagen and fat — with a matrix of micro needling pins to renew deeper layers of the skin and full body remodeling. By stimulating collagen by penetrating deep into the layers of the dermis, Morpheus8 can improve skin complexion and texture reducing crepiness, cellulite and wrinkles and providing a slight lift . It can also treat acne.
Radio-frequency skin tightening is an aesthetic technique that uses radio frequency energy to heat skin with the purpose of stimulating cutaneous collagen, elastin and hyaluronic acid production in order to reduce the appearance of fine lines and loose skin. Microcurrent Skin Tightening Microcurrent is a low level of electrical current that mimics the body's natural current. Originally, this technology was developed to treat Bell's palsy patients who had sudden paralysis or weakness in facial muscles that seem to droop, but in recent years it's also become a popular skin tightening treatment.  This technology claims to re-educate the facial muscles to shorten or to lengthen which can result in a tightening effect.
Take micro needling to the next level with Morpheus8
Morpheus8 addresses a wide range of skin concerns including wrinkles, poor texture, crepey skin, saggy skin, scars and stretch marks, with little to no down time and creates smoother, tighter and more youthful looking skin.
Four fractional tips with different microneedle configurations (Prime 12 pin, Resurfacing 24 pin, Morpheus8 24 pin, and Body 40 pin) deliver clinically proven RF energy to multiple treatment depths (0.5mm – 8mm).
Why you need and want Morpheus8:
Smooths and tightens skin
Shrinks pores
Smooths fine lines and wrinkles
Boost collagen production
Less visible acne scars
Improves hyperpigmentation and sun damaged skin
Leaves skin glowing and radiant
WHAT IS MORPHEUS8?
Morpheus8 is a fractional skin treatment that stimulates collagen production of the underlying layers of the dermis. By targeting the deeper layers of the skin, the building blocks will reorganize themselves in a natural anti-aging process. Morpheus8 is a is an advanced radio frequency micro needling rejuvenation treatment method that can help decrease the appearance of wrinkles and other skin irregularities.
It can simultaneously improve your skin tone, complexion, and skin quality. It uses radiofrequency energy, to penetrate into the deeper layers of your skin and stimulate the production of collagen in target areas while also reducing fat in unwanted areas while also improving the tightness of your skin.
WHAT AREAS CAN BE TREATED?
Morpheus8 can be used on any areas that can benefit from sub-dermal renewal. The most commonly treated areas include the face and neck. All areas of the face and body that exhibit wrinkles, cellulite or fat, and discoloration or acne scarring are suitable for treatment.
HOW MANY TREATMENTS WILL I NEED?
Depending on your Morpheus8 treatment regime you can expect to have between 1-3 sessions.
HOW QUICKLY WILL I SEE RESULTS?
Visible results can be seen within a few days, but typically after two or three weeks, the most noticeable results appear. Improvements continue up to three months after treatment.
WHAT IS THE BENEFIT OF FRACTIONATED ENERGY?
Fractionated RF energy is a scientifically proven method to reduce wrinkles and rebuild collagen and fat. It is minimally invasive, using a matrix of micro pins to renew deeper layers of the skin with almost no patient downtime. RF energy heats the deep layers of the skin in a controlled way to revitalize the collagen. The treatment will improve skin complexion and texture for a more radiant and youthful appearance.
CAN ANYONE USE MORPHEUS8?
The benefit of Morpheus8's color blind technology is that it can be used on all skin types, male or female. The unique properties allow even darker tones to be treated for wrinkles, skin irregularities, and acne. Morpheus8 could help you reach your goals.
CAN THIS BE USED IN COMBINATION WITH OTHER TREATMENTS?
Yes, Morpheus8 can be used in the same treatment session or a few days after other treatments.
WHEN CAN I PUT MAKE-UP ON AFTER TREATMENT?
Since patient downtime is minimal, makeup can be applied 1 to 2 days after the treatment. Patients should expect to see micro lesions a few days after treatment and slight redness for up to 1 week depending on treatment parameters.
WHAT KIND OF POST PROCEDURE CARE IS REQUIRED?
Patients should moisturize the treatment area and avoid direct sun exposure. It is also recommended that patients use a good, broad-spectrum sunscreen every day. In addition to reducing their future risk of skin cancer, sunscreens also reduce wrinkles and slow the aging process.
HOW MUCH DOES A MORPHEUS8 TREATMENT COST?
Every patient's skin is different and will require an individualized treatment regimen to help them reach their goals. To obtain more information about the procedure and pricing, schedule a consultation with Taylor or one of our staff. Morpheus8 can be performed anywhere on the body! A person may need anywhere from 1 to 3 treatments, depending on the condition of their skin.  An example of a location is face or face and neck. Indian Lake Medical's current special pricing for face is $600 or a package of 3 for $1500.
WHAT IS RECOVERY LIKE AFTER MORPHEUS8 TREATMENT?
You can go home after receiving Morpheus8 treatment and immediately return to your normal daily activities. Avoiding direct sunlight the day of treatment and continual use of a strong sunscreen is recommended to ensure you maintain long-term results of the treatment.
HOW LONG WILL MY MORPHEUS8 TREATMENT RESULTS LAST?
You will notice an immediate improvement in the quality of your skin after treatment, and these results will continually improve. You may notice the most drastic results around two weeks after treatment. Continued skin maintenance is recommended to prevent future damage and prolong the benefits of Morpheus8 treatment.
We are hopeful that you will trust the expertise of Indian Lake Medical with your next micro needling, radio frequency treatment. There is a learning curve with the Morpheus8 platform and here at Indian Lake Medical we've learned with time that Morpheus8 treatment outcomes can vary dependent upon the user operator. Understanding how and when to use certain energy's, settings, and fractional tips on this very powerful piece of equipment has become life changing for us here at Indian Lake Medical!  Please let us know if you have any questions!
Schedule a consultation
Radio Frequency Microneedling
Morpheus8 – the GOLD STANDARD in Radio Frequency Microneedling
Revitalize your skin! Tighten skin, reduce scarring, and remove fine lines and wrinkles with Morpheus8 by InMode. This revolutionary technology combines micro-needling with radio frequency. The microneedles penetrate the skin to stimulate your body's natural healing process, returning a fresh, youthful look to your skin. The radio frequency heats the deeper layers of the skin to precise temperatures that cause the fibroseptal network to contract and pull your skin tight.
WHAT DOES MORPHEUS8 TREAT?
 Wrinkles and fine lines
 Acne or surgical scars
 Loose, sagging, or aging skin
 Textural irregularities
 Uneven skin tone
 Enlarged and congested pores
 Sun damage and sunspots
HOW DOES MORPHEUS8 WORK?
Morpheus8 is a cutting-edge device used for radiofrequency microneedling. The handheld device has numerous microneedles, measuring up to 5mm in length, in office. The device makes numerous micro-channels on the skin's surface and simultaneously delivers radiofrequency energy into the deeper dermal layers. As such, the Morpheus8 device combines radiofrequency therapy and microneedling in a single session.
Microneedling, also known as collagen induction therapy, is a procedure wherein micro-injuries on your skin's surface activate the body's healing processes. Your body increases skin cell turnover to replace the dead skin cells and damaged skin while also producing new collagen fibers. The thermal energy also catalyzes collagen production to tighten your skin tissues. The results are firm, toned, and even-textured skin. Morpheus8 is your non surgical facelift, thigh-lift, chin lift, arm lift —- bum lift…. You name it…LIFT!!!  If you want the GOLD STANDARD in tightening and "remodeling" your skin… this is it!!  Prepare to experience the GOLD standard!
WHAT IS MORPHEUS8?
Morpheus8 is a minimally invasive modular RF fractional solution for full body subdermal adipose remodeling.
KEY BENEFITS:
Morpheus8 delivers the deepest fractional treatments available, penetrating subdermal tissue up to 8mm (7mm + 1mm thermal profile).

Morpheus8 Body is the first and only FDA cleared technology to provide deep 8mm subdermal adipose tissue remodeling.

Dual Handpieces allow for increased treatment functionality: Morpheus8 for smaller treatment areas and Morpheus8 Body for larger and deeper tissue treatments.
Intelligent programmable technology and large, easy to navigate LCD treatment screen
With a unique large surface tip consisting of a matrix of40 thin gold-coated microneedles, and a thermal profile of 7mm + an additional heat profile of 1mm, Morpheus8 Body can be programmed to quickly treat large tissue areas at the deepest levels of RF available.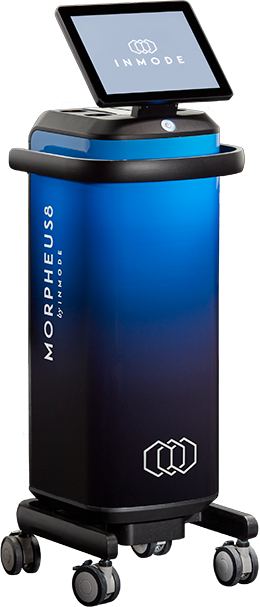 F.A.Q.
Is it painful?
No! we use a topical numbing agent so you won't feel a thing.
What's the downtime?
There is a little bit of redness and possibly some swelling, but nothing that will prohibit you from your daily activities. Some patients who receive the treatment on their face may want to take a weekend off.
How long does it take?
Depending on the area, Morpheus8 typically takes 30-60 minutes after 45 minutes of numbing.
How many treatments do I need?
We typically recommend a series of three treatments spaced one month apart, but most people notice results after one treatment. We will customize the number of treatments to you!
When will I see results?
Results will start to appear as early as a week after your first treatment and continue to improve for months as your skin heals and new collagen is formed.